Become a volunteer
Sign up to help at the Repair Café as a repairer, administrator or the refreshments team.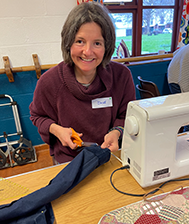 "For me, volunteering for the Topsham Repair Café is a great way to connect with others in our community, hone my sewing skills (under the guidance of some proper experts!), and do a Good Deed once in a while. All this without the burden of committing myself more than once a month at most.
Handing back a 'fixed' item and seeing the look on the recipient's face gives you a genuine glow.
It feels like such a sensible, practical approach to reducing waste in our community – a fixed thing doesn't need replacing. And the cake's great too!"


Jane Trollope – Sewing Expert and Topsham Resident.