Café now open with indoor or outside seating and takeaways… Saturday Market open … Pilates, yoga, dance exercise and art classes now back, Over 50s youth group now happening….
Reopening Matthews Hall and the Dorothy Holman Centre: Despite the delay in easing lockdown restrictions, there's still lots going on. Yoga, Pilates, Zumba, dance exercise, Qi-gong, landscape painting, life drawing, felting and badminton are all on offer at Matthews Hall, distanced, of course. Meetings, reduced-capacity concerts and talks are taking place. Also the vibrant Saturday market, the lovely café and the fish and chip van on Monday evenings. Seniors, Pilates, dance school, cubs, Zumba and toddler and baby groups are happening at the Dorothy Holman Centre. From 19th July we hope that all restrictions will be lifted. Veronica is taking bookings for 2021 and into 2022 on 01392 876865 or email vron70@yahoo.com.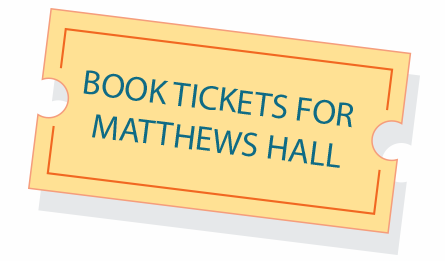 Look out for a wide range of concerts, films and events to suit all interests at Matthews Hall throughout the year as things start happening again. You can also find out about events at other venues in Topsham by visiting the Love Topsham website.
POSTERS BELOW show a few of the events and activities at Matthews Hall and Dorothy Holman Centre.
Dorothy Holman Centre Current activity. Please contact Veronica Coe on 01392 876865 or email her at vron70@yahoo.com for details.
To book Matthews Hall or Dorothy Holman Centre for your event or activity, please visit our VENUE HIRE PAGE.
The Over 50s 'Youth' Group is back from 18th May.
BOOKING TICKETS To book tickets for the main events at Matthews Hall, call or email the event organiser (details on posters), if you're stuck for contact details, our bookings secretary Veronica Coe (01392) 876865 or vron70@yahoo.com) can usually help.