Roadmap to reopening Matthews Hall and the Dorothy Holman Centre: From 12th April, indoor children's activities, retail and small funerals are allowed. From 17th May, exercise and art classes can start and distanced films, concerts and talks are allowed. From 21st June we hope that all restrictions will be lifted. We look forward to both halls coming back to life. Veronica is taking bookings for 2021 and into 2022 on 01392 876865 or email vron70@yahoo.com. Thank you for your support.

Matthews Hall is the thriving and vibrant 'Heart of Topsham'. Opened in 1928 the primary use of the hall was a cinema but is now recognised for its exceptional versatility and warm welcome, and as a venue perfectly suited for private events and celebrations. Topsham Community Association manages Matthews Hall and in 2011 won the Topsham Society Award for its complete renovation.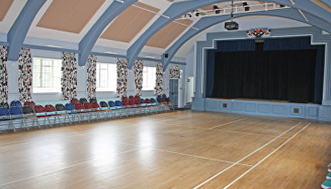 Accommodation at the Hall includes:
MAIN HALL
The large high-ceilinged hall can accommodate a game of badminton or a 160-strong seated audience. The stage is fully equipped for all manner of performances and presentations with lighting, speakers and a drop-down cinema screen. The venue also features a green room, kitchen facilities, an impressive audio visual set-up and free use of a large number of tables and chairs set up as specified for hirers.
THE COUNCIL CHAMBER
Also available for hire, is a smaller room upstairs offering a capacity of 60. There is a stair lift and a small kitchen area. There is a drop-down screen and a projector.
Catering services are available for both the main hall and council chamber on enquiry.
There is FREE WI-FI throughout the building. Matthews Hall has step-free access and facilities including a disabled toilet, chair lift to the council chamber and hearing loop in the main hall.
THE GARDEN ROOM
This office/studio, at the back of Matthews Hall, is suitable as a 'home working' space. It has a table, chairs, Wi-Fi and independent access. Size– 3.75m x 2.72m. Available to hire for £10 an hour, £30 for half a day and £60 for a whole day.
To find out about hall hire and events, contact the Bookings Secretary Veronica Coe on 01392 876865 vron70@yahoo.com.
Parking is available in the public car park next to Matthews Hall.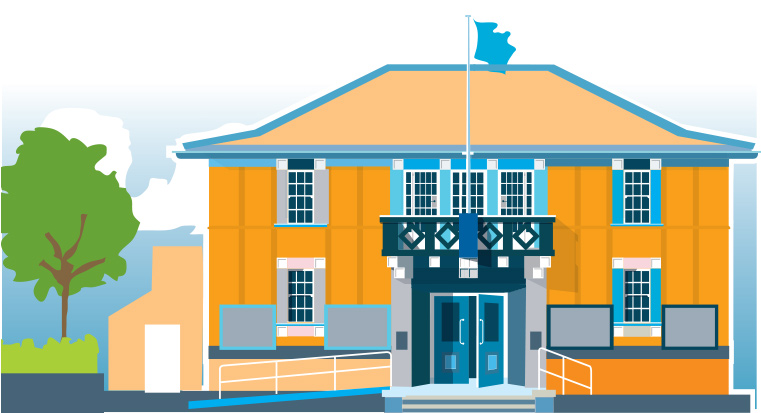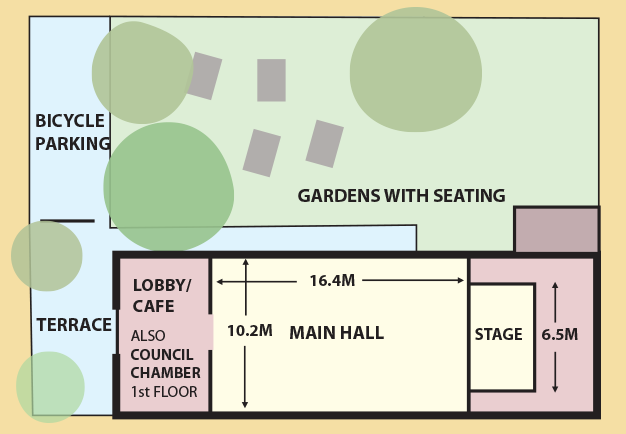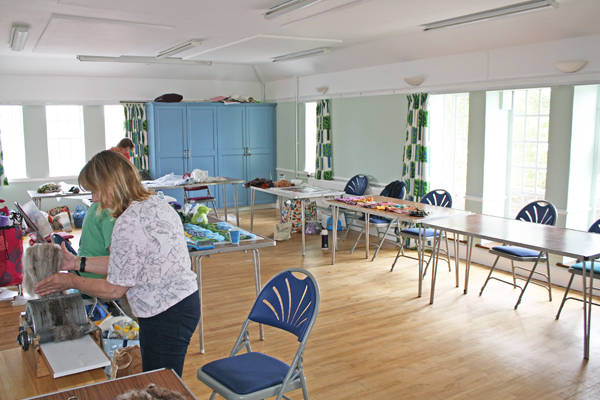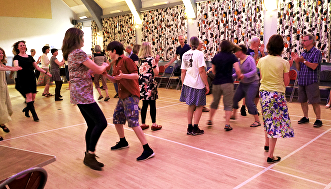 Dorothy Holman Centre represents The Spirit of Community and provides a venue for medium-sized community activities, events and parties. Topsham Community Association is in the process of taking over the management of the Centre at the moment. Facilities at the centre include:
A LARGE PARTY ROOM. PLUS A SMALLER ROOM WITH KITCHEN AND EASY CHAIRS. There are toilets and level access and the Centre is at the recreation ground, which is its unique asset! Outside the Centre is a paved area with uninterrupted views across the estuary and direct access onto Topsham Recreation Ground. Also outside there are permanent table tennis tables, a chess table and seating. The recreation ground includes a petanque pitch, conveniently positioned close to the Dorothy Holman Centre.
The Centre is available to hire for all events that can comply with Covid-19 regulations.
To find out about hall hire and events, contact the Bookings Secretary Veronica Coe on 01392876865 vron70@yahoo.com.
Prices: one hour £12, two hours £19, three hours £25.50. Any further hours £7.50 per hour.